Builder Line Shaker White Cabinet Style guide
Please scroll to the bottom of this page for a
ssembly guidelines.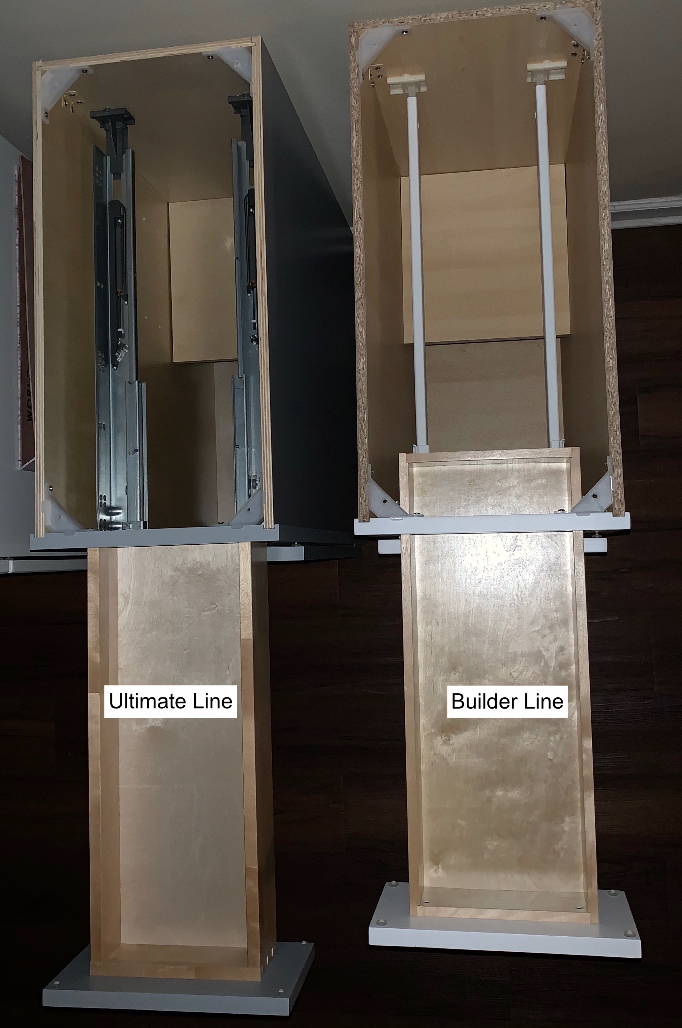 Builder Line Cabinet Construction
Box assembly with clips and brackets.
Same doors as Ultimate Shaker = higher quality.
All wood drawers, face frame and doors. 1/2" particle board box construction.
Warehouse images:
Assembly guidelines:
Builder grade RTA cabinet assembly requires low to medium level carpentry skills and normal home improvement tools.
Builder line cabinets are assembled with brackets and screws. Using of glue, staples and nails can be recommended but is not necessary.
If you are not familiar with how to assemble we do recommend to consider hiring a local professional installer.
If you have the necessary skills and do decide to install yourself - all tools are readily available at your closest big name home improvement store if you do not have them already.
All basic parts for assembly are provided in the boxes.
Recommended materials (not provided with cabinets):
Wood glue for plywood, drawers and panels
Nails for toe kick for base cabinets and skin panels.
Furniture staples for applying the back to the end panels
Tools needed:
Screw gun
Regular furniture stapler
Please note that not all bracket installation places are pre-drilled.
Drawers are not assembled and you will need to glue the boxes and attach the glides.
Interested in all plywood cabinets instead?
Check out our Ultimate Line style guide HERE
Check out our Platinum Line style guide HERE